Garage Doors of Distinction from Raynor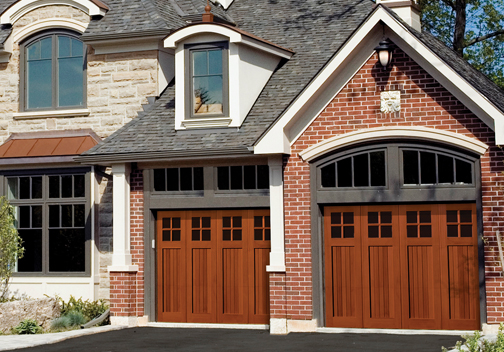 There are garage doors ... and then there are garage doors. Anyone seeking something that really adds to the design quality and beauty of a home should consider the Distinctions Series from Raynor.
Distinctions Series garage doors utilize select, high-quality materials. They're built to the highest standards of craftsmanship. Just as important, they offer many choices in color, finish, style and detail - so much so that a door can be tailored to perfectly complement your home design and landscaping.
Among the outstanding choices in the series:
- Arbor Shore. This collection features stainable, vertical grain cut lumber, true-divided built-in windows (known in architectural terms as lites), and a consistent wood tone throughout - at prices that are competitive with any comparable doors on the market.
- American Rivers. These solid-wood carriage-house doors include hand-forged hardware and architectural glass options for a custom handcrafted look.
- Timber Bay. In swing-up, swing-out, accordion and bi-fold styles, these doors deliver the beauty of Western Red Cedar and African Mahogany - ideally suited for older and newer homes.
- River Pointe Carriage House Doors. This carriage door line makes outstanding features and quality available at an affordable price level. Also available at modest cost are Raynor's StreamWood, RockCreeke and StyleView collections, each providing exceptional appearance, durability and overall value.
In wood, steel or aluminum, a Raynor Distinctions Series custom model is not just another garage door. This series delivers the finest features the industry has to offer, along with the widest range of design options available. See for yourself - the ABE Doors & Windows showroom at 6776 Hamilton Boulevard features a full-size Distinctions Series ArborShore door in beautiful natural wood.