Storm Door Blues
Storm Door Blues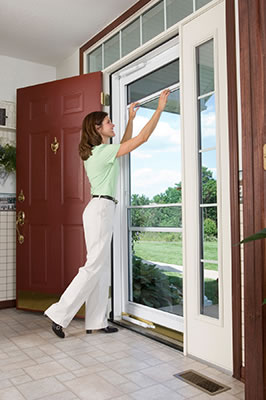 I love summer—the barbeques, the pool parties, the warm weather, the windows and doors all open to enjoy the beautiful breeze. Summer is my favorite season. However, there's one thing I dislike about summer and that is trying to utilize my storm door.
I love the look of a full view storm door and I like how it protects my front door from the elements, but I dislike taking the glass out and putting the screen in. I'm not a fan of storing the glass or screen while one or the other is not in use. I'm always worried that I'll drop the glass or bend the screen.
The self-storing storm doors with those pinch-in finger latches are a major frustration for me, as well. I always seem to lose my grip and send it crashing into the bottom of the track. Or else I happen to break a nail trying to pinch it into position.
However, I've learned that there is a cure to my storm door blues and that solution lies in Provia's Spectrum storm door. In the Spectrum, the screen is stored on a roll so that I can simply raise or lower the sash in accordance to how much ventilation I desire. I can even vent the bottom so my cat and dogs can enjoy the breeze. When I'm finished, I just close the sash and the screen rolls back up. There's no storage, no pinch tabs, no hassle.
I've been told there's no cure for the summertime blues, but I believe those people have yet to experience the Spectrum storm door. I just love it!