It's Cookie Season!
It's Cookie Season!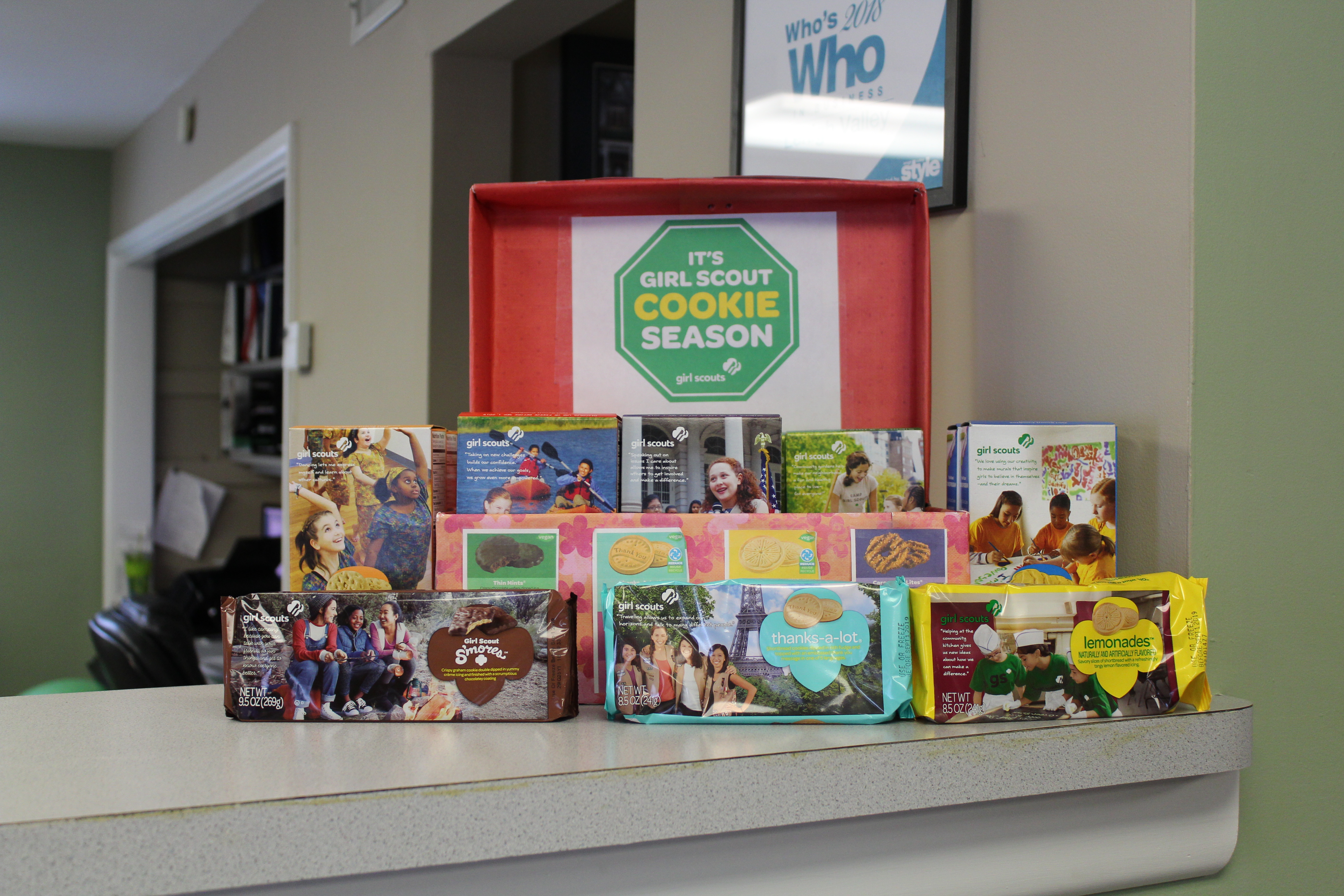 It's that time of year again and A.B.E. Doors and Windows is of two very different minds. Ninety percent of our employees [and customers] are delighted to see the return of Girl Scout Cookies. Meanwhile, our office manager, Shannon is in mourning for the next nine weeks. Being a troop leader and with two children in Girl Scouts, Shannon looks at the time between January 17 and March 10 with dread. For her, it's a time of freezing her buns off at cookie booths and making endless change for $4.00 boxes. For the rest of us, we're delighted to see the return of our favorite flavors.
Now, depending on how much you travel, you might have noticed that some of your favorite cookies have different names from state to state [especially right here on the border of Pennsylvania and New Jersey]. Girl Scout Cookies are produced by two different bakeries, Little Brownie Bakers and ABC Smart Cookies. Depending on the region you live in, and therefore which region of Girl Scouts you support, will depend on which bakery you find yourself in supply of cookies for.
Thin Mints are the only Girl Scout Cookie that both bakeries supply. After that, each cookie has a different name between bakeries. You'll find Samoas and Caramel Delights, Tagalongs and Peanut Butter Patties, Do-Si-Dos and Peanut Butter Sandwiches, Trefoils and Shortbreads, Savannah Smiles and Lemonades. Both have Smores as well, but the cookie itself is extremely different between bakeries—ABC's is chocolate covered while LBB's is more of a sandwich. Little Brownie Bakers has an exclusive cookie called the Toffeetastic while ABC has Thanks-a-Lots.
Girl Scouts began selling homemade cookies as early as 1917. They used to make sugar cookies with their mothers, package them in wax paper, seal them with a sticker, and sell them door-to-door for as little as twenty-five cents. In 1933, Girl Scouts of Greater Philadelphia Council baked cookies and sold them in electric and gas company's windows. One year later, they became the first to sell commercially baked cookies. In 1951, with the boom of suburbs and malls, the first Girl Scouts began to set up tables in malls to sell cookies. As the flavors evolved in 1978 so did the packaging. It became uniform and depicted photos of Girl Scouts in action. In 1979, Saul Bass created a logo for Girl Scouts which began appearing on all the boxes and promoting the benefits of Girl Scouting.
Selling cookies not only allows Girl Scouts to raise funds for themselves to use throughout the year on troop activities. It also allows them to learn key skills for business and life. Now, we're sure that you'll find Shannon at some booth in the greater Lehigh Valley area in the next nine weeks, but if you'd like to make sure she never gets a break, go ahead and stop by the A.B.E. Doors and Windows showroom for instant cookie gratification. We support Girl Scout Cookies!