Kidnapped: A Team-Building Exercise
Kidnapped: A Team-Building Exercise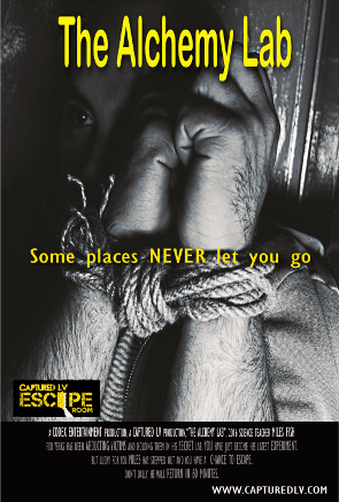 It was a typical Friday at A.B.E. Doors and Windows… until we found ourselves kidnapped by the dastardly science teacher and infamous serial killer, Miles Fish. Fortunately for us, Miles had stepped out to cover his tracks and left us alone in his alchemy laboratory for precisely sixty minutes. That was all the time we had to put together clues from his previous victims and escape with our lives. The owners of A.B.E. Doors and Windows had booked a team-building experience with Captured Lehigh Valley, an Escape Room.
Having never attempted an Escape Room before, none of us knew quite what to expect. All we really knew was that we had some time off from work and were going to get to have some fun with each other. The coming Escape Room had been the talk of the building all week. Once we arrived, our technicians, office, and sales staff were divided into three teams. We had been told ahead of time that the chance of escaping was about 33% and we all scoffed—please, we're smart.
Well, we were in for a challenge, let me tell you! [Now, I won't tell you anything about the puzzles, since half the fun was going into them completely blind.] We worked together through the first few quickly and without too much trouble, giving us a seriously false sense of security. Once we had our handcuffs off and free reign of the lab, that was when the trouble really started.
The Escape Room—though maybe the size of a living room—was absolutely packed with details. There were Halloween-style severed body parts, more locked drawers and cabinets than I could count, maps and books and photographs, and even a fake hatchet splattered with blood. Even though I expected us to descend into pandemonium the second we started, our group actually worked very well together. We solved most of the puzzles almost to completion, but it just wasn't enough.
Our time ran out before we could escape. [We did give our 'Game Master' a little scare with the fake hatchet when he came in to let-us-out-slash-murder-us.] Afterwards, we met up with the rest of our coworkers and found that only one of our three groups had escaped. 33% chance proved to be right on the money after all!
Though I usually cringe when I hear the words 'team-building exercise,' I have to admit that it was an absolute blast. I hope we do something like this again in the future. Hopefully we'll all make it out alive next time!