German vs American Potato Salad
German vs American Potato Salad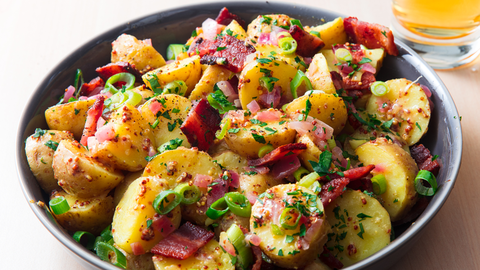 The Fourth of July has come and gone. I hope everyone had a great holiday! I spent my time traveling from one picnic to another, enjoying the company of friends and family alike. The benefit to this day and age is the delicious blending of cultures that's going on in the area. However, it did lead me to an interesting discovery—German potato salad.
Apparently, I always make American potato salad. You know the kind I'm talking about with sliced egg, onion, and cups upon cups of mayonnaise. Americans just love their mayonnaise. Personally, I'm not a fan. I tolerate mayo in macaroni and potato salads and that's about all. Come to discover that there was a potato salad out there just for me.
German potato salad is a whole different animal from American potato salad. First off, there is no mayonnaise to speak of. Instead, it was a pleasant dressing of vinegar, oil, mustard, red onion, and bacon. Mmm, bacon! Can you think of anything that isn't improved by adding bacon? The benefit of the German potato salad at our picnics was also that its ideally served warm, unlike the common mayo-tastic variety, so we didn't have to desperately shuffle it from one beer-packed cooler to another as the ice and drinks disappeared. The German potato salad could sit right out on the table next to the baked beans.
I plan to make German potato salad as my dish next Independence Day!
Our own, Janet Lett, has supplied us with her tried and true recipe for German Potato Salad:

2 pounds of white potatoes, about 6 medium-sized
1 cup chopped onions
1 cup chopped celery
2-3 sliced hard boiled eggs
1/2 teaspoon of celery seed
salt and pepper to taste

Cook potatoes in lightly salted water until fork tender. Cut potatoes into small cubes and place in a large bowl; add onions, celery, hardboiled eggs, celery seed, salt and pepper. Mix lightly. Keep warm.

Dressing:
1/2 pound of bacon, diced
2 eggs.
1/2 cup water
1/2 cup sugar
1/2 cup apple cider vinegar

Fry bacon until crisp. Beat eggs; add sugar, water, and vinegar. Stir this mixture with the hot fried bacon. Stir over low heat until dressing thickens, then pour over the potato mixture, toss gently to combine, and garnish with sliced hardboiled egg.
Can be served warm or room temperature.

Enjoy!