5 Benefits of Having a Storm Door
5 Benefits of Having a Storm Door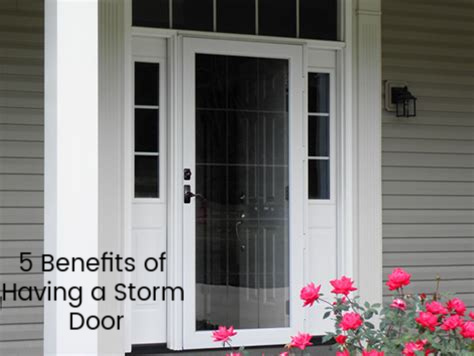 Installing a storm door may not be high on your "home improvement" list, but read on to see how this simple addition can enhance your home for years to come.
Added Security
Storm doors are typically made from a strong aluminum, providing an added layer of protection to your home. Most doors come with a separate key lock or a bolt & padlock feature. The ability to lock this door when you have your main door open, provides a safeguard for children or pets that may lean on it. Reinforced screens and tempered glass also contribute to the overall security.
Energy Efficiency
The U.S. Dept of Energy states that storm doors can reduce energy loss by up to 50%. That translates into an efficient barrier against summer heat and the icy cold blasts of winter air. Drafty homes also benefit from the addition of a storm door by providing an extra layer of insulation.
Breeze In/Bugs Out
Who doesn't like to let in the fresh air that first warm spring day? Many doors come with interchangeable screens to allow for ventilation, while keeping the bugs outside where they belong. Some models offer built-in retractable screens, which are handy in case a sudden summer storm comes along.
Exterior Door Protection
Your front door is a valuable investment. A storm door provides a layer of protection from the sun, rain and ice. Over the years, you will save money on maintenance costs and prolong the life of the exterior door.
Increased Curb Appeal
A welcome addition, storm doors can compliment an already stunning entryway. Today's models offer an array of colors, interesting hardware and beautiful glass panels that match your home's overall ascetics. A desirable selling point for your home, as it also lets in natural light to the entryway and living areas.
Our friendly staff is here to answer any questions you may have regarding installing one of these to your home.