Winchester Mystery House
Winchester Mystery House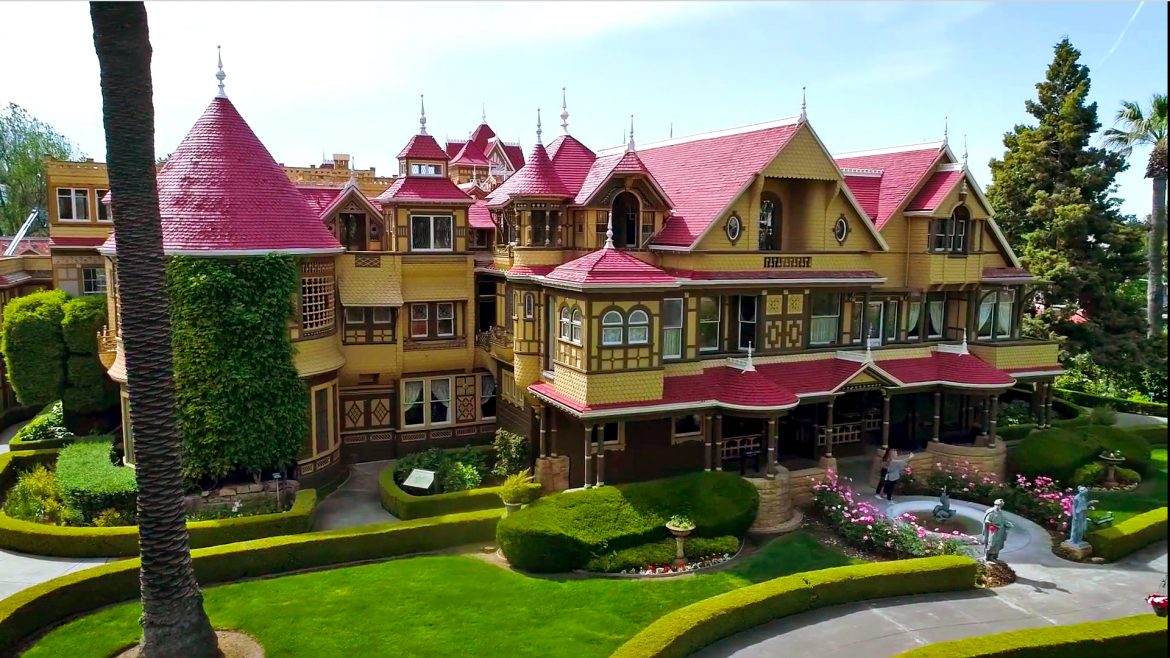 Sarah Lockwood Pardee married William Winchester, magnate to the Winchester Repeating Arms Company, in 1862. Now, most people know of the Winchesters for the Model 73 Rifle, better known as 'The Gun that Won the West,' released in 1873, but Sarah Winchester is responsible for one of the single most fascinating homes in the United States. After her husband's death from tuberculosis in 1881, Sarah inherited the Winchester fortune, purchased an eight-room farmhouse in San Jose, California, and started building in 1886.
Sarah called the one-hundred-and-sixty-two-acre estate her 'Llanada Villa' which is Spanish for 'house on flat land.' During the heyday of construction, running most drastically from 1891 to 1900, the house quickly rose from a humble farmhouse to a seven-story Victorian giant. Tabloids from that time reported that Sarah visited a medium who channeled her late husband. The medium supposedly warned Sarah that she needed to continuously build on the home to protect herself from the spirits of the victims of the Winchester Rifle. Whether that is true or not, all that is known for certain was that Sarah certainly built.
Neither an architect nor a master blueprint was used during the haphazard construction process as the team of carpenters worked under Sarah's direction only. As a result, the house was soon filled with oddities such as stairs that ascend into the ceiling, windows that open into other rooms, a closet that is only an inch deep, skylights in the floor, and a 'door to nowhere' that opens directly into a garden fifteen feet off the ground.
When a massive earthquake struck San Francisco in 1906, it destroyed the seventh story tower and greatly damaged the fifth and sixth floors. These were later removed, decreasing the mansion to the four stories that is still is today. When Sarah passed away in 1922, construction abruptly ceased, leaving some rooms and interior sections of the house dangerously unfinished.
Sarah's niece sold the home almost immediately. In 1923, it was purchased by John and Mayme Brown. They had planned to create an amusement park on the site, including a wooden roller coaster, but the overwhelming interest in the house caused them to shift focus. They opened for public tours that same year. In 1924, Harry Houdini visited the mansion on Halloween. He hoped to debunk the paranormal theories swirling around the home, but only left with more questions. He famously dubbed Sarah's estate, 'The Mystery House' as it is still known today.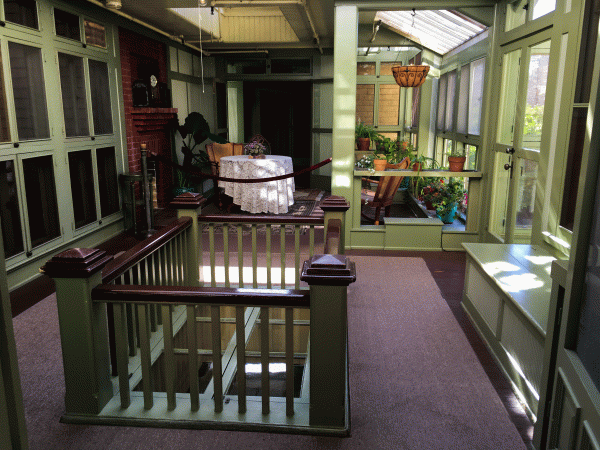 In 1974, the house was granted landmark status and placed on the National Register of Historic Places. The Winchester Mystery house currently spans six acres. It tops in at a fantastic 24,000 square feet. It features ten thousand panes of glass, two thousand doors, one hundred and sixty rooms—including two ballrooms, thirteen bathrooms, and six kitchens—fifty-two skylights, forty-seven stairways, seventeen chimneys, and three elevators. A stained-glass window designed by Louis Comfort Tiffany was created for the house to have a prismatic effect when the sunlight shone through it, but it was unfortunately installed on an interior wall.
In 2016, a previously unknown secret room was discovered in the attic. It contained a pump organ, a Victorian couch, a dress form, a sewing machine, and several paintings. Stories spread while Sarah was alive of a storage room in the home that contained un-displayed riches, including a spiderweb Tiffany window designed by Sarah herself. To date, no such room has been discovered—not to say that it isn't in the mysterious house somewhere. It's incredible to think that a house built in 1886 could still be protecting its secrets over one hundred years later.
As for the paranormal, such beliefs were not abnormal at the time. Fed by the Civil War, in which countless people perished, those left behind were sad and desperate for a way to know that their families were okay in the great beyond. It was confirmed that Sarah did at least have an interest. The house is full of stained-glass spiderwebs and repeating number thirteens—from windows with thirteen panes, ceilings with thirteen panels, and staircases with thirteen steps.
The tale of Sarah and her villa being haunted by the ghosts of the Winchester rifles' victims was most likely started by the house's early promoters. In 1967, psychic Susy Smith wrote about the Mystery house in her book, 'Prominent American Ghosts.' Historians see Sarah's perpetual making and remaking of the house as a larger-than-life artistic endeavor, rather than any true attempt to escape spirits. Guns were a fact of life then and gun-guilt didn't really emerge until the turn of the 20th century. One historian believes that Sarah continuously renovated her home as a way to purposefully employ the San Jose community. She did try to give back, even building a hospital in her husband's name. The house itself was probably her biggest social work of all.
While we may never know what really drove Sarah Winchester to create such a house, it's certainly the kind of place I would love to visit.