Safely Decorate Your Home for the Holidays
Safely Decorate Your Home for the Holidays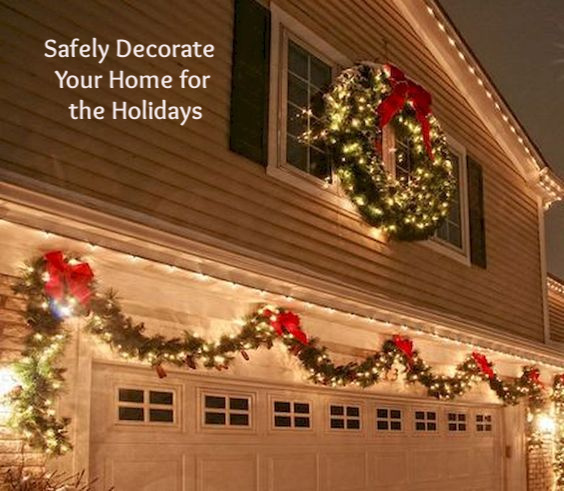 Whether you are one strand kinda person or tend to cover every possible area with lights, it's important that you hang your decorations with care, so you can admire them standing up.....not flat out on your back. We surveyed over 100 elves for the best tips and tricks to make sure you, and the surfaces you use, hold up well year after year.
A few things to consider before you start decorating. Knowing what surfaces you will be working with will help you determine what instruments you will need to help hang, fasten or drape decorations on. You should also determine if this is an area that you will use year after year, you may want to use better quality nails or fastening items if you plan on leaving these things in place for future holidays. If you will be removing nails afterwards make sure you have the proper items to fill the hole.
"The stocking were hung by the chimney with care"
It is best to keep stockings or garland away from the actual fireplace opening. A stray spark or ember could lead to items catching on fire. No one likes a singed stocking! If you have a mantle, use a sturdy hook to show off your families stockings and move them temporarily when a fire is lit. Display other items...garland, beads....on top of the mantle, rather than hanging them. Make sure anything on the mantle is sturdy and won't fall off. If you like the look of candles this time of year, consider investing in a flame-less version. They even make remote controlled ones. Always use your chimney screen and observe basic fireplace safety.
"When out on the lawn, there arose such a clatter"
The view of a festive wreath as you gaze upon a home always brings a smile. A wreath hanger is your best bet to avoid nails in your door. Most are thin enough to still allow your door to be closed. If your door is metal, you could employ a magnetic hook and suspend any décor from a pretty ribbon. Another great helper are command hooks because they can be removed cleanly when you are done with them. Just make sure to check the weight they will accommodate, in general, try to keep any item you are hanging on your door to under 15 pounds....anything heavier could damage the doors structure.
"Away to the window I flew like a flash"
If you love the look of a candle in every window, always use the electric or battery operated type. Consider switching over to LED bulbs, they consume less energy, do not get hot and are less likely to burn out. Make sure your candles have a sturdy base and use a timer so they are not lit during the day.
Hanging a wreath on the outside of every window is a charming look. If you have a double sash window, you can easily pass the wreath thru the top opening and affix it with several methods. A small push pin at the top of the window frame works very well to secure ribbon or fishing line that your wreath hangs from. If you want to avoid a hole, simply knot your ribbon at the top and close the window to hold in place. There are also magnets that secure on either side of a window pane that can support a lighter wreath or ornaments.
For windows that may not open from the top, you could use suction cup hooks or command strips designed for the outdoors.
"And then, in a twinkling, I heard on the roof"
Lights....a staple decoration of many a home and probably the most tricky to hang properly without causing yourself injury. It goes without saying that you should plug in any strands before you start hanging them up. There are a host of products you can purchase to help affix outdoor lights. Do a bit of research to see what will be most helpful for the surfaces you have. After choosing the right hanging devices, let's focus on hanging them safely.
Make sure the plug you are using is grounded. We've all seen the plug Clark Griswold used in Christmas Vacation.....that was an accident just waiting to happen. If an over-current should occur, the system will be able to shut itself down.
If you are using an extension cord, make sure it is rated for outside use and that they are secured to avoid a tripping hazard. Be sure your strands are labeled for outside usage and are water resistant or water proof. Keep lights away from power lines or other hanging items that they could get entangled with.
If you are securing lights on a second story, choose a day that the wind is low and the weather clear. Check over your ladder if it's been awhile since you've used it. Have another person assist you while you are on the ladder by helping guide or hold the lights as you hang them up. Having a person on the ground can also be helpful by making sure lines are straight.
Save on your electric bill by using a timer so your lights are not on during the daytime or still on at 3 am when no one is around to admire them.
"And to all a good night"
Congratulations, your home looks merry & bright....now, sit back with a cup of hot chocolate and enjoy all your hard work.
*all quotes from- A Visit From St. Nicholas by Clement Clarke Moore