Stay Secure-Tips for Home and Garage
Stay Secure-Tips for Home and Garage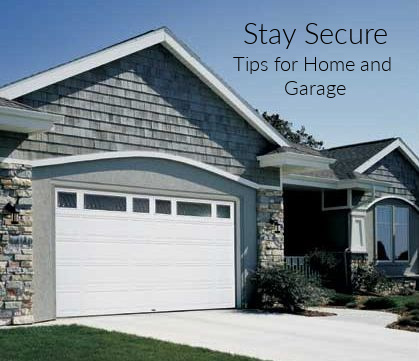 Lights...Camera...Action! Although we associate this phrase within the movie industry, it can be helpful when thinking of ways to keep your home safe. Consider these tips to protect yourself and your belongings.
Lights!
One of the biggest deterrents to burglars is a well-lit home. Make sure walkways, entrances and the outside of your garage are illuminated well. Anyone targeting your home wants to stay incognito, placing motion sensitive light bulbs near the garage and doors prevents a person lurking around.
Same goes for inside the home. Lights set on timers are a great way to dissuade thieves by giving the illusion that someone is there. If you are traveling, have someone check in on your home and instruct them to open blinds or curtains in the morning and close them in the evening.
Smart light bulbs and switches are making their ways into many homes. Pairing these items with an app allows you to control lighting from wherever you are. There are many different bulb options and media platforms to choose from. Make sure you do some research to see what is right for your home.
Camera!
More popular than ever, security systems that allow you to view who is knocking on your door are a hit with homeowners. These cameras can really range in price, so it's important to do a little research to determine the right type for your needs. Battery powered devices are economical, but will you remember to change or recharge them when necessary? Systems that are wired in may be worth the investment, but also consider what happens if the power or Wi-Fi goes out and you are unable to connect for a while.
Durability and the overall quality of vision (especially night vision) are important factors as well.
Camera doorbells are another way to alert you to deliveries, guests or anyone inquiring at your door. Once pressed, an alert is sent to a paired smart device so you can see and talk with the person outside. Most systems can be hardwired to your existing doorbell, but some are available with batteries. Unlike the security system, these cameras are usually triggered by motion sensors or by depressing the doorbell.
Action!
If you plan on leaving your home for a week or even just a few days, take action in and around your property. An unkempt yard can signal to burglars you are away. Be sure to mow and trim bushes just before you leave or have a neighbor attend to your lawn. Make plans for someone to collect your mail and newspapers or arrange for them to be held until you return. Don't announce vacation plans on social media.
Before you leave, make sure all windows and doors are locked. Don't ever have a key hidden outside, leave one with a trusted neighbor or family member instead.
Never leave computers, gaming systems or high-end electronics visible. Consider a safe to store jewelry or other small valuables.
If you are leaving a car at home, remove your garage door opener and store inside your residence.
Relax, knowing you have taken the necessary precautions to secure your home and loved ones.